Community Champion - November 2020
About
Born in the Bradford in the North of the UK and been there ever since! I have recently joined Netcompany as a Senior Infrastructure Consultant based in there Leeds Office. I have two children, Zoya (10) and Mikaeel (6) and a better half in my wife, Reema (she will kill me if I tell you her age ha ha ha).
I have done a number of different roles in IT since starting 15 years ago, including 1st, 2nd and 3rd Line support. I have been doing Consultancy for the last 6 years and focusing on Azure & Microsoft 365 for the last 4 years. My main areas of focus are Windows Virtual desktop, Identity Management and Endpoint Manager
My main activity within the community has historically been on twitter (https://twitter.com/shabazdarr) and my Technical Blob (https://iamitgeek.com)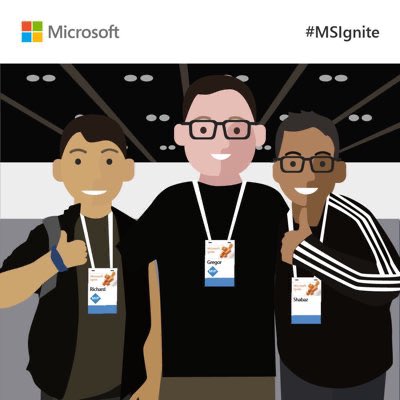 Richard, Gregor and Shabaz @ Ignite
---
I have taken part in recent community evens including Azure Advent Calendar, Azure Spring Clean and the Azure Back to School initiative. Within the last 6 months I have started presenting at virtual events including the Leeds Azure User Group, the UK Windows Virtual Desktop User Group and the North East Azure User Group.
I will shortly be launching my own YouTube Channel - "I am IT Geek" where I will publishing a series of videos which will be "how to" based technical videos based on topics such as Multi-Factor Authentication and Identity Management to name a few.
Finally I am in the process of co-launching a new Cloud user group local to Bradford. More information to follow!
---